"Sunshine to go 15" ist eine neue Arbeit von Angelika Jelich aus einer Serie zum Thema "Sunshine to go".
Die Gallery Arthouse N.Y.C., New York zeigt diese Arbeit auf dem großen Screen auf der Big Plaza hinter dem Kempton Hotel an der neunundzwanzigsten und sechsten Straße in Manhattan, New York.
Sie sind herzlich eingeladen die Plaza zu besuchen und sich das Kunstwerk anzuschauen!
"Sunshine to go 15" is a new artwork of Angelika Jelich and it belongs to the serie "Sunshine to go".
The Gallery Arthouse N.Y.C. , New York shows this artwork of Angelika Jelich on th Big Screen Plaza. The Plaza is located behind the Kempton Hotal at 29th and 6th Avenue in Manhattan.
You are warmly invited to visit the Plaza and to see the artwork!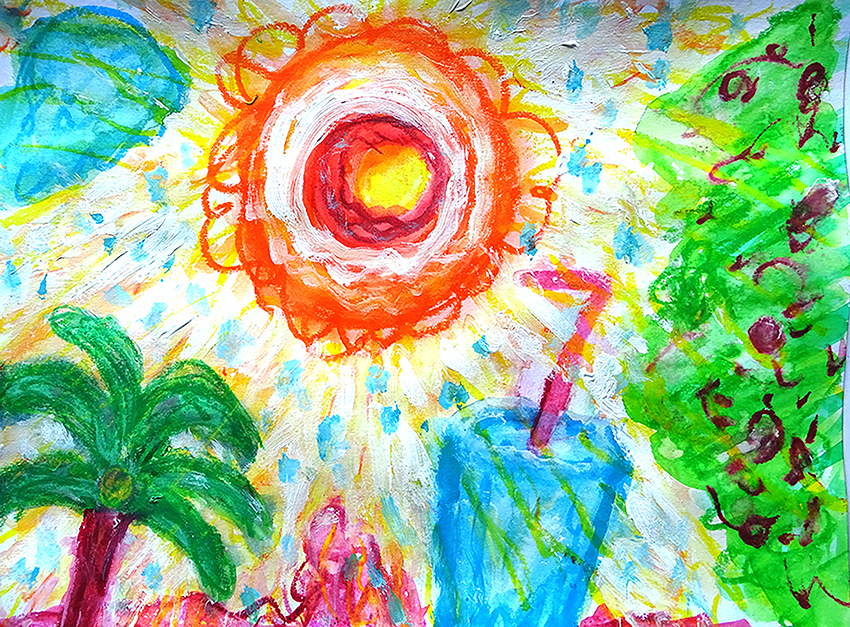 Arthouse N.Y.C., New York zeigt Angelika Jelichs Arbeiten in einer großen Ausstellung.
Arthouse N.C.Y., New York´is showing Angelika Jelich´s work in a large exhibition.
Sonenschein als Lebensenergie
Sunshine to go
"Sunshine to go 15" ist ein neues Werk von Angelika Jelich aus ihrer Serie zum Thema "Sunshine to go". Die Künstlerin lädt uns ein, in eine Welt einzutauchen, in der Sonne, Lebenslust und dem Genuss von Sonnenschein zum Mitnehmen im Mittelpunkt zu stehen. Das Bild erstrahlt in leuchtenden Farben und versetzt den Betrachter in eine fröhliche und lebendige Stimmung.
Die Sonne spielt eine zentrale Rolle in diesem Werk. Ihre Strahlen durchdringen das Bild und umgeben die Szenerie mit einer warmen und einladenden Atmosphäre. Die Sonne ist nicht nur eine Lichtquelle, sondern symbolisiert auch die positive Energie und Lebensfreude, die wir mit sonnigen Tagen assoziieren.
Inmitten dieses sonnenverwöhnten Bildes entdecken wir eine Vielzahl von Elementen, die uns ansprechen. Bunte Blumen erblühen in voller Pracht und verleihen dem Bild eine natürliche Schönheit. Sie symbolisieren das Wachstum, die Lebenskraft und die Freude, die wir in der Natur finden können.
Ein Getränk mit einem Strohhalm in der Mitte des Bildes zieht Aufmerksamkeit auf sich. Es stellt die Möglichkeit dar, den Durst nach Erfrischung und Genuss zu stillen. Das Getränk steht für Momente der Entspannung und des Wohlbefindens, die wir an sonnigen Tagen genießen können.
Angelika Jelich lädt uns mit "Sunshine to go 15" ein, die kleinen Freuden des Lebens zu schätzen und den Moment zu genießen. Das Bild erinnert uns daran, dass wir uns von der Energie der Sonne inspirieren lassen können, um Lebenslust und positive Gefühle in unseren Alltag zu integrieren. Es ermutigt uns, uns mit der Natur zu verbinden und die einfachen, aber wertvollen Dinge im Leben zu schätzen.
"Sunshine to go 15" ist ein Kunstwerk, das uns einlädt, das Sonnenlicht zu umarmen, den Durst nach Freude und Lebensenergie zu stillen und die Schönheit des Augenblicks zu feiern. Es ist eine Erinnerung daran, dass wir jeden Tag die Möglichkeit haben, den Sonnenschein in unseren Herzen mitzunehmen.
Sunshine as life energy
Sunshine to go
"Sunshine to go 15" is a new work by Angelika Jelich from her series on the theme "Sunshine to go". The artist invites us to immerse ourselves in a world where the focus is on the sun, the love of life and the enjoyment of sunshine to go. The painting shines in bright colors and puts the viewer in a happy and lively mood.
The sun plays a central role in this work. Its rays penetrate the image and surround the scene with a warm and inviting atmosphere. The sun is not only a source of light, but also symbolizes the positive energy and zest for life that we associate with sunny days.
In the midst of this sun-drenched image, we discover a variety of elements that appeal to us. Colorful flowers bloom in full splendor and give the image a natural beauty. They symbolize the growth, vitality and joy we can find in nature.
A drink with a straw in the center of the image attracts attention. It represents the possibility of quenching the thirst for refreshment and pleasure. The drink represents moments of relaxation and well-being that we can enjoy on sunny days.
Angelika Jelich invites us with "Sunshine to go 15" to appreciate the small pleasures of life and enjoy the moment. The painting reminds us that we can be inspired by the energy of the sun to integrate joie de vivre and positive feelings into our everyday lives. It encourages us to connect with nature and appreciate the simple but precious things in life.
"Sunshine to go 15" is a work of art that invites us to embrace sunlight, quench our thirst for joy and vital energy, and celebrate the beauty of the moment. It is a reminder that every day we have the opportunity to take the sunshine in our hearts with us.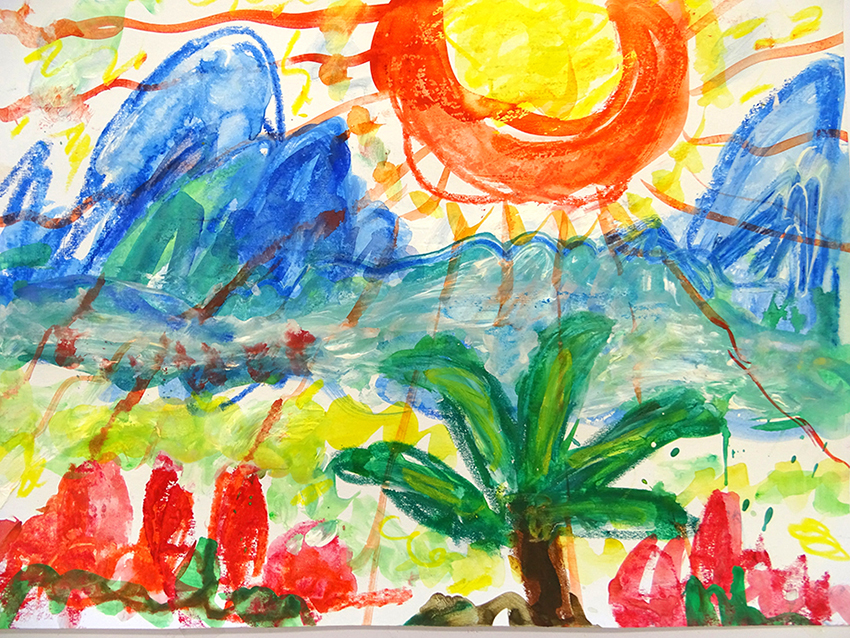 Sunshine to go 1
Sunshine to go 13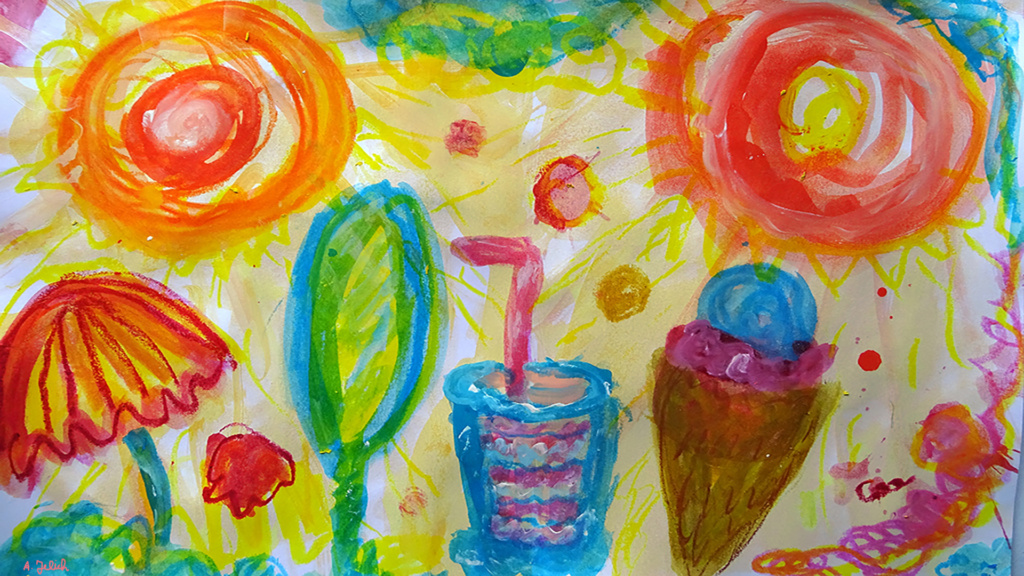 Sunshine to go 16
Sunshine to go 20